How To: Layering Jewellery
Layering jewellery is a trend we are seeing everywhere from the style inspirations we come across while scrolling through our Pinterest feeds to the billboard that features the high fashion model sporting layers of gold effortlessly placed upon her neck and we want in!
Sometimes when we look at our fashion icon conquer trends we can find ourselves thinking "these aren't achievable looks" or practical for the everyday woman on the move. But luckily this jewellery trend is one that translates from runways to sidewalks painlessly. It's as simple as pairing your two favourite necklaces together, ones you thought were two separate pieces rather than one powerful duo. With having multiple necklaces that coordinate you're able to not only wear each separately but also together to create a dynamic look. Minor details such as, what type of chain, what colour of metal, length etc. are all part of what makes this look fun and experimental. We also want to mention that layering jewellery does not solely pertain to necklaces but also includes rings, bracelets and everything in between!
We're going to show you some great options as with brands and pieces you can find at Mitchell & Jewell.
Let's check this trend out…
1. Two-Tone Hillberg & Berk Set
The first set we have showcased for this post is one from one of our favourite brand, Hillberg & Berk. It is a two toned set, meaning both silver and yellow gold coloring, one necklace at a choker length while the other is a Y shape. We added one of our favourite chains, a silver sparkle chain, to this that fell right in between the two perfectly. This is perfect for what we're talking about because this set is simple yet achieves that effortlessly styled look. We are mixing the two tones which gives the look dynamic characteristics along with giving ourselves an easy way to pair accompanying jewellery. With the dramatic length difference between all we are able to establish the look yet with keeping the chains dainty we establish a look that has simplicity.
A tip we have with this set is try to pair it with a neckline that is able to show off the diverse lengths. Here we paired it with a solid, dark colored turtle neck. This very high neckline is able to flatter the necklaces and show off the trend clearly.
Since the necklaces are on the simpler side we kept the look classic with a pair of diamond studs and incorporated the two tones with wearing a couple of dainty staple rings, complementing the overall tone.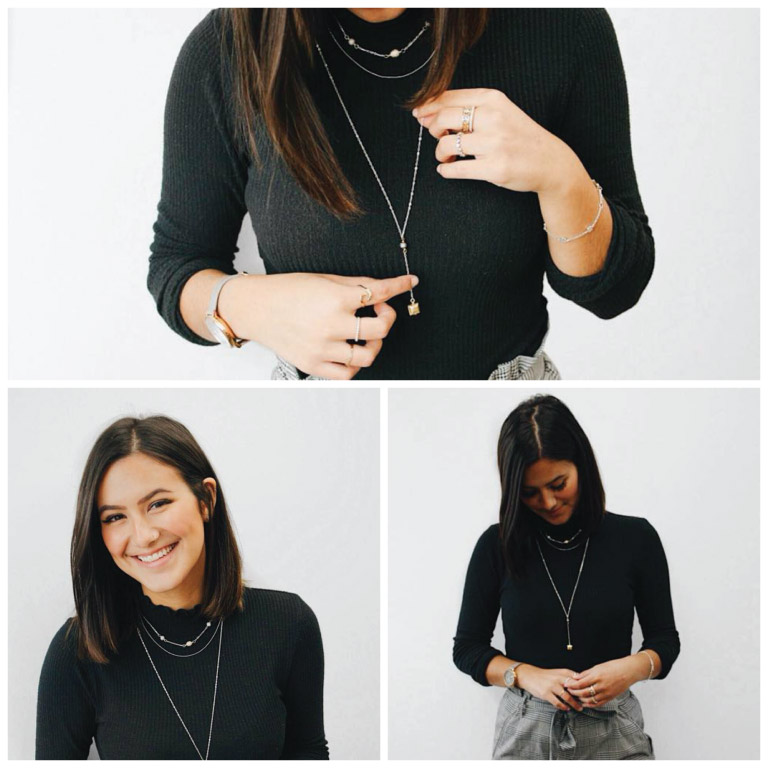 2. Layering with Silver and Pendants
This second look we have included in this post showcases a couple more necklaces, this time with a little bit more detail to them individually yet still blending nicely when worn simultaneously. We chose necklaces that were all sterling silver which gives the look unison. What's a little different with this look is that we've included pendants! Using pendants adds characteristic to complete our look, it gives us a vibe. This look shows us that you can wear a mixture of your favourite necklaces at once no matter the minor detail that makes them up.
We have a choker length necklace from a fresh brand, Thomas Sabo, starting this off. It has small jewels dangling off the chain adding a fun quality. Followed by the same HillBerg & Berk Sparkle chain we had in the first look adding a sweet dynamic. Third necklaces we have layered is another Hillberg & berk Sparkle Chain but this one has a small diamond pendant dangling off of it. Lastly, we have another Thomas Sabo necklace which has a horn pendant that we have been seeing everywhere! All necklaces tied together in unison due to the Silver coloring. We love the build-up to the big pendant we have created with the dangles off of the choker and the diamond pendant.
This look is trendy yet easy, throw it on with your favourite pair of jeans and shirt and you're good to go! We have paired it with a black tank top that has silver detailing along the neckline that ties in with our tone here. As well as having a neckline that shows off all four necklaces is able to create that fun look and let the jewellery speak for itself! With this we put on a pair of fun patterned pants to go with the fun, trendy look. Because the necklaces we chose are very neutral they are able to work with any pattern you're wearing!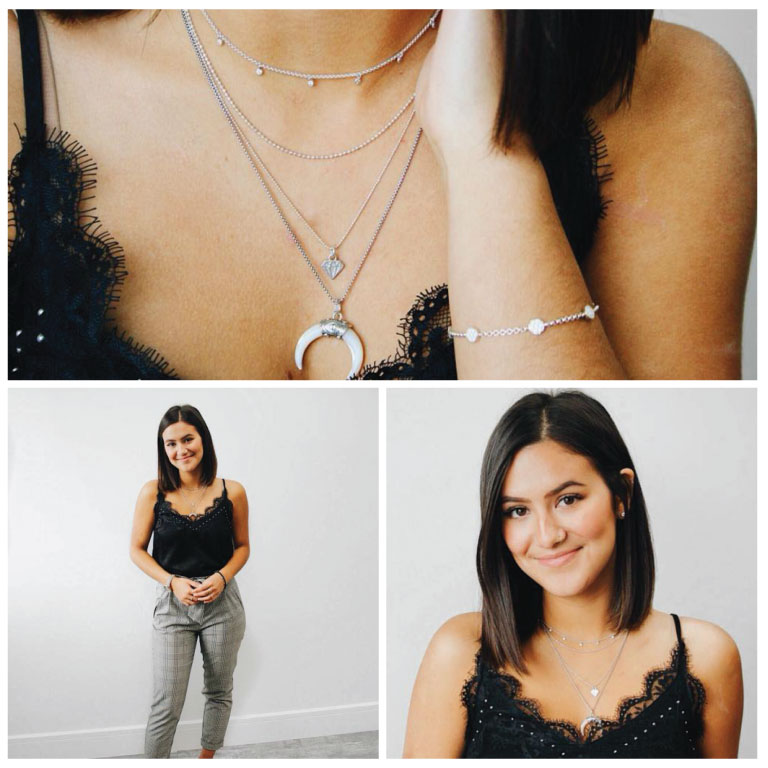 3. Chunky Chains
For the last look we've put together here we have used chains that are all different widths, weights and styles, yet we have decided to keep the colour consistent. Mixing chains that do not necessarily match is one of our favourite looks because it gives us a care free feel, as if you threw on all of your favourite chains and they just so happened to go together, as if they were meant to! Yet by keeping all the necklaces yellow gold we are able to maintain that put together look.
A tip we have within this style is to maintain balance within the jewellery. Meaning we want to create a diverse group of chains rather than all of them being one weight. To achieve this we've created two looks here each using 1 heavier chain and 2 lighter chains, this giving our jewellery balance making it wearable for everyday.
We have used, again from one of our favourite brands Hillberg & Berk, a choker length curb chain for our shortest necklace here. Using the curb chain adds a little bit of edge that we can appreciate! Followed by a simple five diamond necklace, which is on a very fine, lightweight chain. Lastly a Hillberg & Berk yellow Sparkle Chain, adding that extra gold sparkle to top this off. We love the look and how diverse you can make it as well as how you can take any of your gold chains and recreate!
As you can see we also did this look yet in the opposite order with our heavy curb chain being the longest.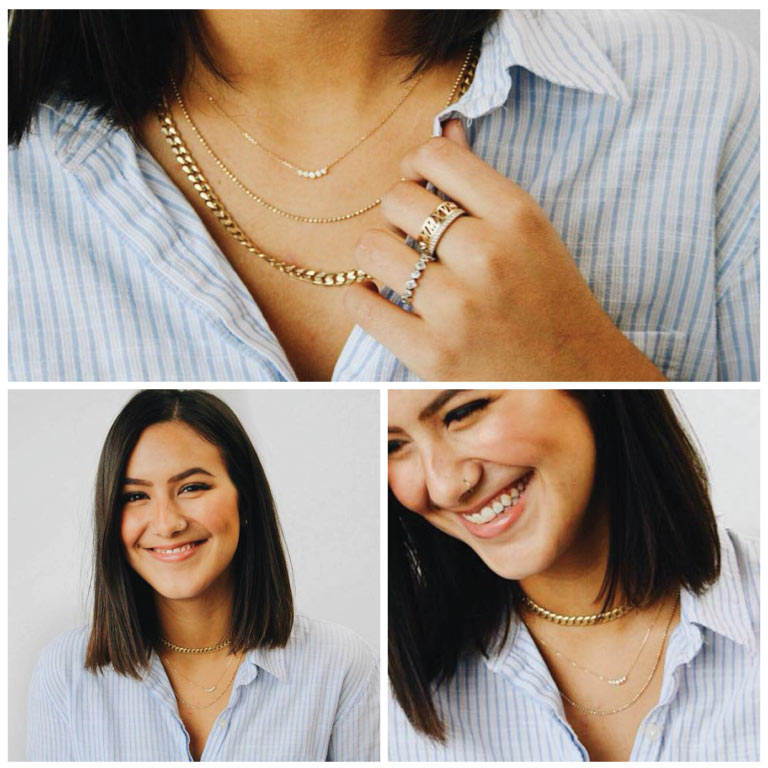 We hope you enjoyed this post regarding how to layer jewellery!
As we mentioned all of the necklaces and brands that are featured within this post are available at Mitchell & Jewell.